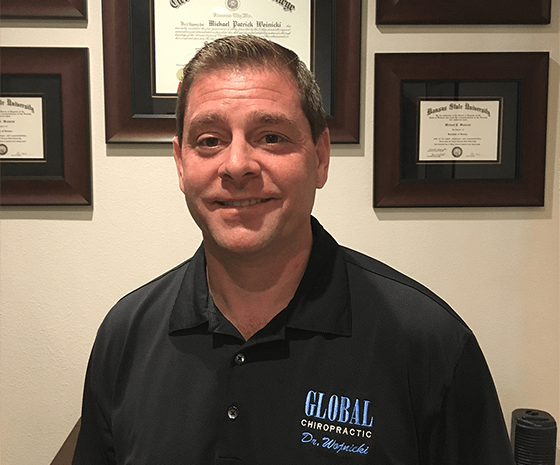 Michael P. Wojnicki, DC is a board-certified chiropractor with years of training and experience performing holistic, noninvasive chiropractic care including adjustments, soft tissue and muscle manipulation, meridian therapy, and other wellness services. Dr. Wojnicki began providing chiropractic care in Texas in 2001, and then opened Global Chiropractic in 2004 to serve the residents of Allen, McKinney, Plano, Frisco, and other communities in North Dallas.
Dr. Wojnicki first earned his Bachelor of Science undergraduate degree from Kansas State University before focusing on chiropractic training at the Cleveland Chiropractic College in Kansas City, KS. After earning his Doctorate of Chiropractic, Dr. Wojnicki earned his certification in meridian therapy before beginning his hands-on training and experience in chiropractic care. After several years of practical experience learning how to best treat each patient from other established chiropractors, Dr. Wojnicki decided to open his own practice to ensure more Texans would have access to chiropractic and functional health care.
Board certified by the Texas Board of Chiropractic Examiners since 2001
Practicing Doctor of Chiropractor in Texas since 2001
Global Chiropractic opened in 2004
Professional Associations
American Chiropractic Association, Member
National Chiropractic Organization, Lecturer
Next Level Management, Member
Texas Chiropractic Association, Member
United States Army, Former Engineer
Chiropractic Qualifications
A Doctor of Chiropractic (DC) specializes in problems of the musculoskeletal and nervous systems with non-invasive, drug-free treatments. Like Doctors of Medicine (MD), a DC must go to a special 4-year post-graduate program after earning their undergraduate degree. Also, DCs must spend time learning hands-on treatments and passing a state licensing board before they can practice. To maintain their license, a chiropractor must earn a certain amount of continuing education credits each year through approved-programs to renew their license.
Safety in Chiropractic Care
While some people may question the value and safety of chiropractic services, chiropractic care has an excellent safety record with low adverse effects. Statistically speaking, you're more likely to be injured driving to the chiropractor's office than during your treatment. Chiropractic care is considered one of the safest options to treat neuromusculoskeletal problems. Patients may experience some mild discomfort or soreness for up to a day after their adjustment, but no more than a strenuous workout session. Compared to the risks of nonsteroidal anti-inflammatory drugs (NSAIDS), prolonged bedrest, and prescription pain medication, chiropractic treatment by a trained and licensed chiropractor like Dr. Michael Wojnicki is the safest and often most effective choice.
Benefits of Chiropractic Care
Noninvasive chiropractic treatments can be a great option for children and adults, who want to avoid needles and excessive medication. The growing practice of prescribing medications like opioids for pain management has led to a rise in the opioid epidemic in the United States. The number of opioid addictions and overdoses has quadrupled since 1999, which makes holistic treatments like chiropractic care more appealing, especially to parents. Not all problems and health concerns can be treated at a chiropractor and patients should seek immediate medical attention life-threatening emergencies, but chiropractic care can be a good choice for preventative health care and drug-free treatments.